Posted on Tuesday, March 12th, 2019 at 12:59 am
[et_pb_section fb_built="1″ _builder_version="3.22″][et_pb_row _builder_version="3.25″ background_size="initial" background_position="top_left" background_repeat="repeat"][et_pb_column type="4_4″ _builder_version="3.25″ custom_padding="|||" custom_padding__hover="|||"][et_pb_text _builder_version="3.0.74″ background_size="initial" background_position="top_left" background_repeat="repeat"]

Our very own Moe Piña is out at SXSW, soaking up plenty of knowledge, expertise, and just a little bit of fun.
In today's post, we're taking a look at some of the weekend's most intriguing sessions relevant to digital marketing, and exploring how what we learned will build upon our Cobalt Formulaᵀᴹ.
Foursquare + TechEthics: Creepy, Cool & In-Between
After a detailed discussion from Dennis Crowley of Foursquare reflecting on how its "check-in" technology has evolved over the last 10 years, he and tech journalist, Laurie Segall, explored the ethics behind data collection.
While all of this information was fascinating, what this particular session uncovered was a multitude of different advantages marketers can benefit from when using location-based ads in their digital marketing campaigns.
To maximize results, location-based search engine optimization is crucial to creating ads and content that target specific customers online — a.k.a. your audience. It can be based off information collected anywhere during their journey through the sales funnel and categorized, creating a database of customer information that can be used to create specific ads or content to entice that demographic to make a purchase.
The new thing that we learned at the session, however, is that we can use Foursquare data to improve specific customer experiences when they physically go to a brick-and-mortar establishment including getting product recommendations based on their needs.
So what does all of this mean for our clients? The best part about this revelation is that, if done properly, a customer can visit your store with the item they need already in mind, while also being presented with additional items they may need in the near future – ultimately increasing your sales.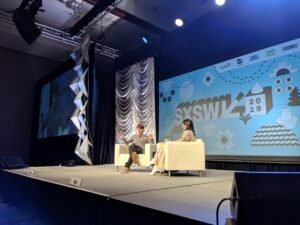 What's New With Foursquare
Foursquare is developing a prototype that gives a real-time, bird's eye view of places and events near you that are trending.
Exactly how it works is quite innovative.
Foursquare understands how phones move throughout the world quite well. So well, in fact, that your own personal privacy is safe. The feature will not reveal personal identification, just what's trending based on how many phones are centralized in a sanctioned area.
Moe actually got a chance to beta test this feature at SXSW over the weekend.
Think about it. Once this goes live, if your business is booming and attracting a lot of customers, this feature may pique the interest of others, driving them to your business to see what all the commotion is about, increasing your sales in the process. Couple that with some positive, reliable online reviews, and you're set.
Artificial Intelligence is Your New Design Material
This eye-opening session explored the usefulness of assistive-technology in creating design – and boy were we impressed. Josh Clark spoke about how user experience and product design in AI is critical in defining what comes next in digital marketing.
This particular session highlighted how to use AI-generated content, interactions, and insights to conduct everyday business. The ability to recognize speech, learn, plan, and problem solve is something that AI has mastered as of late. One big industry for upcoming technology that would embrace AI would be the self-driving car.
Needless to say, this session gave us some ideas. Not only can we make our existing Cobalt Formulaᵀᴹ better, but we can also develop new services that can greatly improve user experience and, through artificial intelligence, improve the look and design of websites based on data that shows what is proven to work.
Of course, this data would all be collected and implemented by AI.
While simplicity is key with this emerging tech, implementation can be complex. That's why you'll want quality support to implement these tools in your digital marketing campaigns.
RIP Websites, the End is Nigh
This session was, admittedly, a little frightening to witness. As the title of the session suggests, Alex Spinelli, CTO of LivePerson, explores how "the website" may meet its gravely end at the hand of smart speaker devices like Alexa and artificial intelligence, otherwise known as conversational commerce.
Spinelli has worked with a lot of top industry brands like AMEX, Citibank, and T-Mobile to name a few, and from all the insights he recovered from working with them, he is confident that conversational commerce will one day seize 90 percent of industry sales.
And he's right. When we look at how far smart speaker devices have come and what they are capable of, everything is pointing into that direction. In one of our recent posts, we explored how voice search would start to become more popular with estimates showing that by 2020, 50 percent of all searches will be done by voice search, and 30 percent of web browsing will be done without a screen.
That's why optimizing your websites not only for mobile but for voice search is also imperative if you want to stay above water. Failure to accomplish this means missed opportunities to build relationships with potential customers and losing authority in your particular niche.
Luckily for our clients, we've already started working that process into our Cobalt Formulaᵀᴹ.
Is Social Media the New Fast Food?
During this session, four social media professionals and digital marketing speakers (Amy Moussavi, Zihla Salinas, Melanie Shreffler, and Alphonzo Terrell) wondered if social media will experience the same decline in relevance as many vintage fast-food chains are facing among younger consumers, who are instead opting for healthier, more cost-effective alternatives.
The four explored what the future of social media could become, questioning:
What is healthy content?
What are the ethical responsibilities for creating "healthy" content?
How will it affect engagement and ROI?
The statistics that were highlighted in this session raised a few eyebrows:
21 percent of young people cannot go an hour without checking their social media.
70 percent think that social media is making people less social.
37 percent have taken a "digital detox" (.i.e. where someone refrains from using a smart device in order to stay away from social media).
46 percent have temporarily deleted social media.
36 percent permanently deleted their social media.
On the other hand, it appears as is social media still has quite a grip on users.
The ever-popular, Snapchat, boasts a 95 percent satisfaction rate among users. Snapchat is still a big medium to use for digital marketing as over 188 million active daily users are on the app. Instagram has over 500 million daily active users.
You can rest assured that as "healthy content" becomes more purely defined, Cobalt Digital Marketing will implement it into its already proven social media strategy.
Designing for Films at Pixar Animation Studios
---
While Pixar animation isn't really a part of digital marketing, a lot of value was taken from this wonderful session, particularly learning about their creative process.
For some of their characters, they designed elements that complemented them. For example in "Up," every design element was based on Carl. In other films, they all had their unique design sets based on characters.
The three speakers (Paul Abadilla, Joshua Holtsclaw, and Deanna Marsigliese) reflected on the creative process they took in creating a scene in Incredibles 2, and it got us thinking: "Why can't we use that same creative process to create websites that really stand out?"
This session has inspired us to consider many other different aspects about web design that we overlooked beforehand, and with a renewed vigor, we look forward to creating websites that catch users' eyes and solidly captures your brand's identity.
Ready, Set, Action! Building for Google Assistant
This session was quite a treat. Four speakers from thirteen23 (Morgan Gerber, Tom Hudson, Laura Levisay, and Max Wade) discussed Google Home's great functionality and improved customization.
But the value that we got from the workshop was in learning how to create our very own Google Assistant Action, along with the best practices. They even taught us how to create our very own horoscope with it, but we decided to ditch that and create a test project bot that referenced one of the restaurants we run digital marketing campaigns for. That's when the ideas began to flow.
Imagine creating a Google Assistant Action for visitors trying to book reservations at a restaurant or what if we created a bot that could update clients on their legal cases. These bots can make a big difference in how information is input or retrieved for our clients, and that is something that we are DEFINITELY looking to perfect and implement into our Cobalt Formulaᵀᴹ.
Thanks to SXSW, Our Cobalt Formulaᵀᴹ Just Keeps Getting Better and Better.
Can you believe we learned all this over just the weekend? That's right. There are still four more days left of SXSW, which means plenty to learn and absorb, so we can provide the most up-to-date digital marketing for our clients.
Make sure to keep an eye out for more blogs as we cover SXSW 2019.
[/et_pb_text][et_pb_text _builder_version="3.26.6″ custom_padding="||0px|||" locked="off"]
Our Cobalt Formula™ can help your business prosper, reach one of our catalysts today at (866) 224-5705

.
[/et_pb_text][et_pb_button button_url="/contact-us" button_text="Contact Cobalt Digital Marketing Now" button_alignment="center" _builder_version="3.26.6″ custom_button="on" button_text_color="#ffffff" button_bg_color="#101a35″ button_border_color="#101a35″ z_index_tablet="500″ button_text_shadow_horizontal_length_tablet="0px" button_text_shadow_vertical_length_tablet="0px" button_text_shadow_blur_strength_tablet="1px" box_shadow_horizontal_tablet="0px" box_shadow_vertical_tablet="0px" box_shadow_blur_tablet="40px" box_shadow_spread_tablet="0px" locked="off" custom_padding="0px|||||"][/et_pb_button][/et_pb_column][/et_pb_row][/et_pb_section]